Dear fans of university ice hockey!
I am pleased that in the 2021/2022 Season our Alexander Dubček University of Trenčín in Trenčín will be represented in the European University Hockey League. Our Gladiators Trenčín TnUAD team and its players are clear evidence that the idea of university sport makes great sense and, in particular, that it is indeed possible to combine education and sport, even though it is sometimes very challenging.
Nowadays it is pretty risky to do only the sports. An unpredictable fate can bring an unexpected injury to life, which means an immediate end for a young sportsman. The same may happen to sportsmen who do not have the luck to move from junior category to the world of professionals.
It is the study, knowledge and skills that help these people to integrate into the "normal" world. Not only those who had to end with their favorite sport at an early age, but also those who may have played longer, but after finishing their careers they want to remain active and make use of their skills.
I am really happy that many companies are looking for former sportsmen when recruiting new employees, because they know that these people are collective, patient, determined and ambitious.
I am glad that at our university we have young people who have decided to combine education with sports!
I believe that the determination will accompany our university ice hockey team throughout the coming season and together we will be able to enjoy it to the fullest and in good health!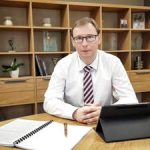 doc. Ing. Jozef Habánik, PhD.
Rector of TnUAD